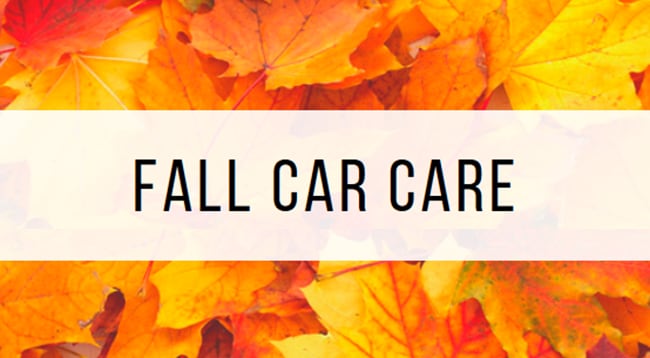 Car Maintenance Tips for the Fall Season
Vehicle Maintenance for the DIYer or Leave It Up To One of Our Factory Training Technicians
Summer has unfortunately come to an end and that means it's time to put away your bathing suit and towel and prepare for jeans and sweater weather. As you make this transition into the fall season you should also make sure your vehicle is prepared for the upcoming change in weather with these simple maintenance tips.
Exterior Tips
As you go around your vehicle take a look at your tires and check to see if you have a safe amount of tread, an easy way of doing this is the penny test.
Find a penny with more shine than others as dark pennies that blur out Abraham Lincoln's face will not be as effective as a penny in good condition.


Hold the bottom of Honest Abe's body with your thumb and index finger and point his head down into the grooves of the tread.


If any part Abe's head is covered by the tread than you know you are ok. Otherwise your tread is too shallow and need to be replaced. Also make sure to check other grooves as tires do not ware evenly.
Do not let the fall foliage fool you as there are dangers that come along with the change in weather these dangers include:
·

Fog caused by cool fall mornings


·

An increase in

deer

activity along the roads
In order to be more aware of your surroundings check your headlights and make sure your low-beams reach at least 100 yards.
Interior Tips
Before the beautiful fall foliage sets in you need to make sure that everything under the hood of your vehicle is uniform. Check the levels of your fluids which include your oil, coolant plus washer and antifreeze
Ask yourself if your heater can withstand the drop in temperature. If your heater is blowing cold air here are some problems it could have:
Stuck Thermostat
Air in the cooling system
Plugged heater core
Coolant not flowing through the heater core
With slippery leaves littered on the road make sure your brakes, steering and suspension are working the way they should be. If you notice any issues such as your vehicle pulling, shuttering or brake noise please make an appointment to have your vehicle looked at by a professional.
If your vehicle is due for an oil change consider stopping by any one of the Imperial Cars dealerships for our Triple Deal Oil Change. It's a great value at $39.95 and includes a multi-point inspection of all your vehicle's major system and components to insure your they're in good working orders as well as checking and topping off fluids and a 4 tire rotation. Click here to learn more about our Triple Deal.
Call 508-422-3700 to schedule your triple deal or next vehicle service. Don't forget to check out our money saving coupons too.