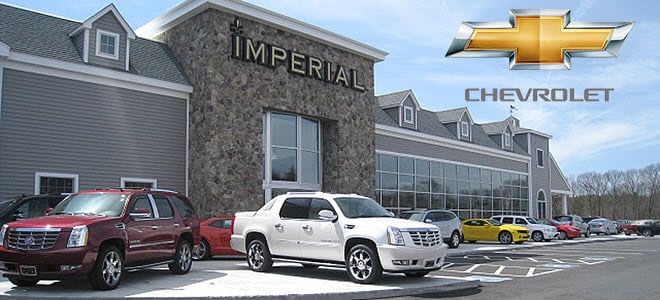 * Looking for a used Chevy? We've got plenty of new and used Chevy vehicles!
The History Behind Our Chevrolet Lineup
When Louis Chevrolet and William C. Durant co-founded the Chevrolet brand on November 3rd 1911, they joined a fledgling industry of two hundred-and-seventy other carmakers. A century later, it remains one of four manufacturers that have withstood the changing tides of the global markets, two World Wars, and then some to become ubiquitous with lasting, American innovation. But where the models you're likely to find on our 52-acre lot have evolved considerably since the Royal Mail Roadster first wore the "Bow Tie" badge in 1914, some things haven't--the constant drive to find new roads!
* The first Chevrolet "bowtie" logo, released in 1913.
The Silverado 1500, 2500, Equinox, Tahoe and Cruze models we sell today at our Massachusetts-based Chevrolet retailer are the product of decades of advancement. From the production of the Series C in 1912 to the selling of the company's one millionth vehicle in 1923, the Bow-Tie brand made it clear producing accessibly-priced cars for their hardworking countrymen and women was going to be the rule of the road!
After surpassing its rivals in 1930 with seven million cars sold worldwide, Chevrolet's manufacturing resources went to building military equipment during the Second World War before returning to civilian cars in the forties. A decade later, the first-ever Corvette went on sale boasting a ultra-light fiberglass body, followed by a precursor to the Silverado pickup two years later.
Today, the Chevrolet brand continues to stand at the forefront of mainstream vehicle advancements and sales. To celebrate their centennial in 2011, they launched first-gen predecessor to the Volt hybrid, and continues to play cat-and-mouse with their across-town rivals for class leadership in towing and payload in their truck lineup with impressive results.
Those looking to get acquainted with a Chevrolet car, truck, or SUV anywhere from Providence to the greater Boston area, there's no shortage of models to get acquainted to--and we're confident each will leave a lasting impression. Read on to discover the variety of models this storied carmaker produces in 2018!

Our 2018 Chevrolet Inventory - Sedans, Coupes, Crossovers, SUVs, and Trucks
Even though it's a part of a larger automotive family, Chevrolet sells millions of cars worldwide each year from every vehicle segment you can think of. That includes medium and full-size pickups, subcompact to large sedans, crossovers, and SUVs, and more! Many--such as the Camaro performance coupe--are living parts of history, and continue to pay homage to the automaker's roots while charging ahead with features designed for life in the modern world. Our 2018 Chevrolet models are available with 4G LTE Wi-Fi from OnStar, smartphone integration, essential driver assistance and safety systems, and numerous accolades.
Take a closer look at some of these popular vehicles available at Imperial Cars!

Colorado
At approximately three-quarters' the size of a full-size pickup, the 2018 Colorado splits the difference between capability and maneuverability. One of the few trucks in its class that can do both, Chevrolet's entry offers a choice between three engines--including a diesel--and sports a quiet, comfortable ride at every turn.
Three commendable engine options, including a range-topping Duramax diesel with 369 lb-ft of torque and up to 30 mpg on the highway. All available with 2WD or 4WD--and can tow a maximum of 7,700 lbs.
A quiet, compliant, and comfortable cabin with rugged, premium furnishings, infotainment, and smartphone integration. With ZR2 model, Multimatic shocks, independently locking front/rear differentials make for strong off-road abilities.
Offered with long or short bed, and regular or extended cab with locking tailgate, cargo box lighting, and bumper steps for work-ready functions.

Silverado 1500
On the surface, the 2018 Silverado 1500 may look the part of handsome work truck with no shortage of creature comforts, but beneath it, hardened work ethic make it one of the strongest half-ton trucks you can find. Those who prefer V8-power to turbocharging V6s will love the Silverado's class-leading powertrain lineup--which can tow up to 12,500 lbs. when properly equipped.
The Silverado 1500's 285-hp V6, and both 355 and 420-hp V8 engines are flex-fuel capable, and can be equipped with an e-Assist mild-hybrid technology. No other full-size pickup to date offers that kind of range.
Built-in 4G LTE Wi-Fi for work or play means you're never left out of the loop, and a standard Teen Driver system enables you safety parameters for young drivers.
Numerous Chevrolet-exclusive packages and editions, such as luxurious High Country and Z71 off-road models.

Silverado 2500 HD/3500 HD
The broad-shouldered 2018 Silverado 2500 HD and 3500 HD make up the backbone of commercial truck fleets all over the Northeast, and it's not difficult to see why. Not only are Chevrolet's "Heavy Duty" twins upscale in look, feel, and ability, but like the brand itself, they're known by history by their long-lasting reputations.
The interior comforts of the Silverado Heavy Duty trucks are as plush as they are advanced--and includes wireless charging, Wi-Fi hotspots, dual-zone climate control, and infotainment functions.
Available with gasoline/compressed natural gas V8 with 301 hp/333 lb-ft torque or 360 hp/380 lb-ft, and Duramax turbodiesel V8 with 445 hp and 910 lb-ft. The range of towing is between 14,500 lbs. up to 23,300 with the diesel.
Hardened equipment for the toughest work including three cab and two box sizes, as well as every day safety systems like blind-spot warning, lane-departure warning, and front-collision warning.
Common-sense amenities - power-adjustable pedals, heated/ventilated seats, locking tailgate and rear differential, and more.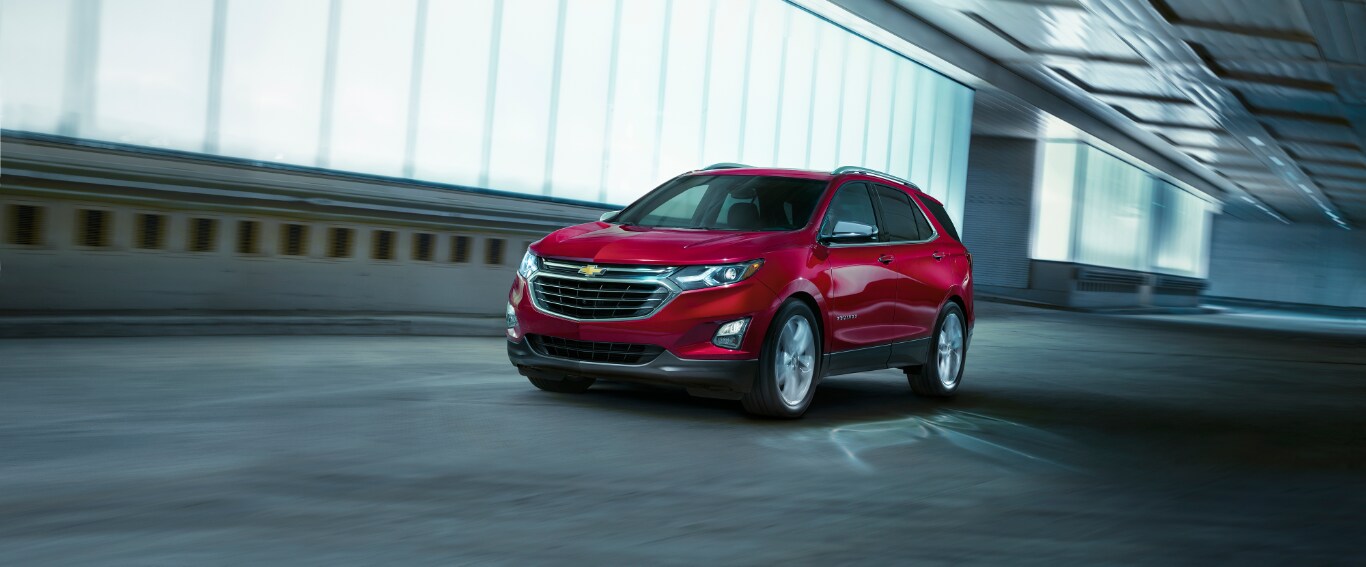 Equinox
All-new this year, the 2018 Chevrolet Equinox makes a splash amongst compact crossovers as the one of the few diesel-powered offerings out there. A flexible, accommodating, and good-looking utility for those who need space and a little something extra, this CUV does it all without going overboard.
Safety and connected amenities like 4G LTE WiFi make the Equinox an exceptional family crossover. Rear-view camera is standard, features like blind-spot monitoring with cross-traffic alert available.
Offered with three fuel-sipping engines--a 170-hp turbocharged inline-four with up to 32 mpg highway, or a 252-hp version with up to 29 mph highway. However, the 137-hp turbodiesel inline-four's up to 39 mpg highway and 240 lb-ft of torque is also exclusively enticing. All can be optioned with AWD.
Although slightly smaller than the last generation, the Equinox hasn't lost cargo volume. Boasts additional underfloor storage.
Comfortable seating, available hands-free power tailgate, panoramic sunroof, USB inputs, and leather upholstery are all on offer, depending on trim.

Tahoe
Large, in-charge, and full of luxury and capability, the 2018 Tahoe is the full-size SUV defined. Sporting power from two V8 engines and featuring refined comforts, this body-on-frame utility is rooted firmly in utility traditions Chevrolet helped to shape. Today, it's a connected family-favorite with room to sprawl.
Can seat three in comfort, or accommodate up to 94.7 cubic feet of cargo volume. Tahoe "Custom" models can remove third row for 53 cu-ft.
Offers 355 horsepower with 5.3-liter V8, and 6.2-liter V8 with 420. Standard 2WD models are rated to tow up to 8,600 lbs.--which is near the top of its class.
Loaded with technology, such as OnStar Wi-Fi and safety suites, Apple and Android smartphone integration, and MyLink infotainment. Safety systems include rear-view camera, blind-spot monitoring, lane-keeping assist, forward collision warning, and low-speed automatic braking.
Upscale amenities found in higher trim levels, or in available package bundles with leather seating surfaces, and other items.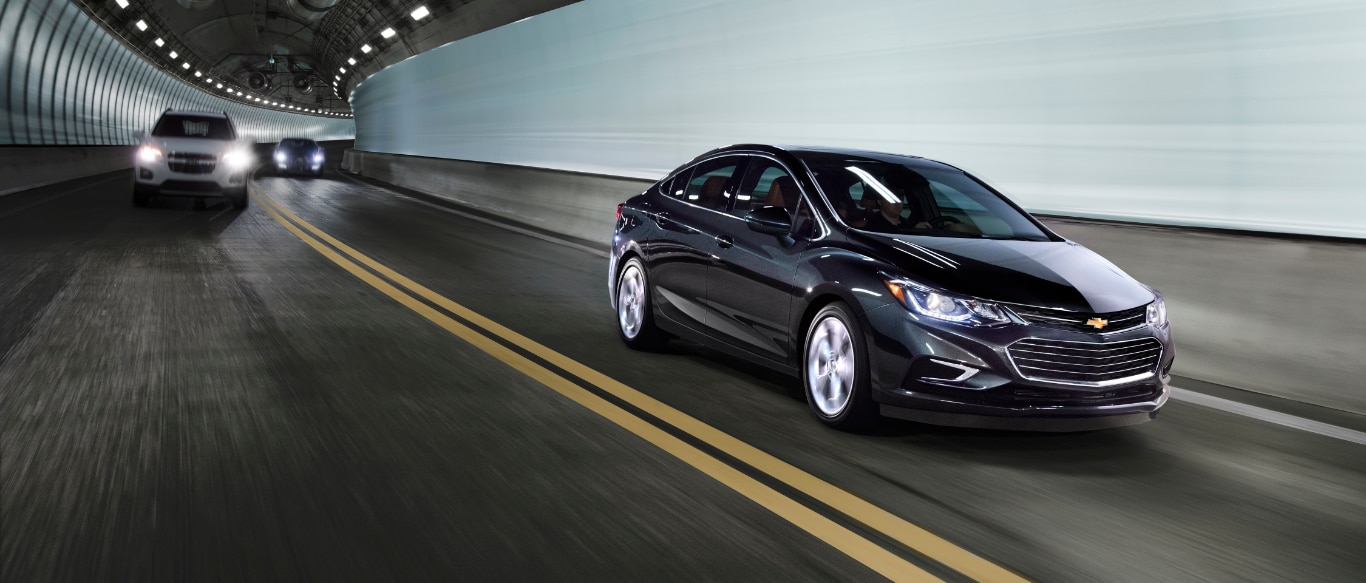 Cruze
The 2018 Cruze is a compact sedan or hatchback that puts a whole lot of substance between point A and point B. As one of the few models in its class with a diesel engine, it's 700-mile driving range is also segment-besting! Attractive in a way small cars often aren't, and connected and safe in a way that can't be matched, the Cruze makes a strong statement for drivers of any age.
In both sedan or hatchback guises, the Cruze is spacious and comfortable. In five-door models, the 47.2 cubic feet of maximum cargo volume is class-topping. Additionally, the Cruze's 8-inch infotainment screen is among the largest.
Standard 1.4-liter turbocharged inline-four engine with 153 horsepower, and up to 30 mpg city/40 mpg highway. With the 137-hp turbodiesel inline-four, 31 mpg city/47 mpg highway can be achieved with an automatic transmission, or 52 mpg highway with the manual.
One of the only compact cars in its class to offer 4G LTE WiFi built in, as well as available safety features like lane-keep assist, and forward collision and blind-spot warning.
Also optionable with Bose premium audio, sunroof, wireless charging, leather seating, and more.
But these models are just a sampling of the variety of others the Detroit-based brand makes! Not only will you find four-door models that sip a mix of gas and electricity, you can also discover what it's like to drive with no tailpipe emissions at all with the all-new Bolt EV, or find out how Chevrolet commercial trucks and vans can elevate the profile of your business by taking a City Express for a spin.
There is no shortage of what you can discover when the vehicle you desire was designed to find new roads! Yet when it comes to finding that close to home, the customer-first benefits found at Imperial Cars is here to deliver.
Click here to see our full new and used Jeep inventory!
We're Proud to be Among the Top Chevy Dealers in MA
Whether the Bow Tie is for facing down the rigors of daily commuting, smiling at your next adventure, or a game-face for the toughest work, our Chevrolet dealership in Mendon, MA is here to reward your search by offering car, acquisition, and maintenance services for the road ahead! The Imperial Cars location at 18 Uxbridge Road carries models from six different manufacturers, an inventory of over 2,200 vehicles, as well as a base for our service center and genuine OEM-supplied parts departments.
Not only are we hard to miss, we're easy to get to! Conveniently located near Interstate 95 to our south, Mass Pike (I-90) to the north, and routes 495 and 146 to the east and west, the unique benefits of the Imperial Cars Difference is always close to home! On our sprawling 52-acre campus, you will find our own gas station and country store, authentic diner, event spaces, and a hair salon and barbershop--alongside numerous solutions to car repair and care needs. Of course, finding the right financing for your lease or loan is within your prospects, too--our credit experts maintain relationships with sixty banks and lending institutions to provide our customers from Framingham, Milford, and beyond the lowest interest rates and payments they can find!
Our Chevrolet outlet has also received the following industry honors:
2015 Chevrolet "Mark of Excellence" Award.
2015 "Dealer of the Year - Massachusetts" Award (DealerRater).
2016 "Consumer Satisfaction" Award (DealerRater).
Are you ready to get started on your search for a new set of wheels, with these inspired assurances at your back? If so, we cordially invite you to experience the Imperial Cars family by contacting us as it's convenient. Let our team assist you in finding that Bow-Tie badged car, and you may just find yourself with a lasting bond. Search from Providence to Worcester, if you'd like, but that's the kind of car-shopping opportunity that can't be beat!