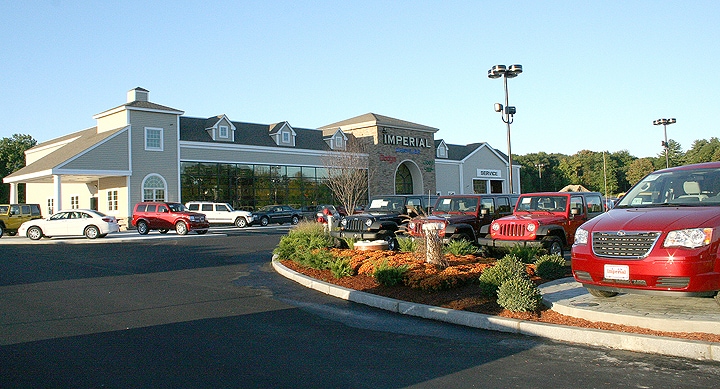 Get to Know the Jeep Brand Here at Imperial Cars
There are a lot of brands and names in the auto industry that can offer you a good car. Few of them, however, can offer you the same legacy of rugged excellence as Jeep. Originating in World War 2 as a rugged tool for the allies, the Jeep represented the best of American ingenuity. It's remembered as an icon of versatility in a desperate time.
* Soldiers testing the new Willys Military Jeep in 1941.
In the years to follow, Jeep would expand beyond military use and into the commercial market. It has since come to define the public image of what a capable SUV looks like. When people think of a vehicle that can carry them through anything -rain, snow, or shine- there's a fair chance it will be a Jeep that comes to mind.
That reputation of excellence has helped Jeep, and its vehicle lineup, grow into a go-to source for excellent SUVs. When you're looking for something that can thrive in conditions like off-roading, inclement weather, and tough driving seasons, you'll find what you need in a Jeep brand SUV.

The Options Available in the Current Jeep Lineup
If you go shopping for a Jeep on the modern market, you'll find a wide range of available models that offer a range of valuable experiences. While all of them are built around the same central idea of power and ability, the different vehicles available provide varying performance that might be better for one driver or another. The current Jeep lineup includes the Wrangler JL, Wrangler JK, Cherokee, Grand Cherokee, Compass, and Renegade.

The All-New Jeep Wrangler JL
When off-road driving is one of your goals, the Wrangler is the SUV you turn to. Making substantial improvements to previous models, the all-new Jeep Wrangler JL offers valuable updates to a classic formula while also bringing back popular mainstays like four-wheel drive and the 3.6-liter Pentastar V6 engine. Here's some of what it has to offer:
A new 2.0-liter inline-4 powertrain. Offering torque than the Wrangler's usual V6, it's a new option for an SUV that's traditionally had just one.
A larger and wider body design that provides room for an all-new and more spacious interior.
New technology options that bring the Wrangler up to date. The addition of the Uconnect infotainment system adds valuable media apps like Apple CarPlay and Android auto.
Powerful four-wheel-drive systems designed to deliver premium off-road performance.

The Jeep Wrangler JK
Drivers who want a Wrangler, but prefer off-road power over creature comfort will find a lot to love in the Wrangler JK. Rugged almost to a fault, it tweaks the classic performance of its more mainstream sibling to provide the optimal experience for drivers who view the road as optional. Here's a bit of what it brings to the table:
The Wrangler JK comes equipped with a tweaked version of the 3.6-liter Pentastar V6. Capable of 285 horsepower and 260 pounds-feet of torque, it's a powerful engine off-road enthusiasts.
A variety of four-wheel drive options that are perfect for off-road performance. Tested in rain, mud, snow, sand, and more.
High ground clearance that helps it handle and maneuver in a range of difficult terrains.

The Jeep Grand Cherokee
The Jeep lineup's flagship SUV, the Grand Cherokee is a full-size five-seat SUV that couples a capable design to a spacious interior full of technology and comfort. Packed full of valuable features, it delivers some of the best options for power, comfort, and safety that you'll find in any SUV from any brand. It's a great vehicle for anyone looking for an excellent SUV to haul their family and friends. Here's some of what it has to offer:
Seven trims with a strong suite of standard features. A 7-inch touch-screen Uconnect infotainment system, dual-zone climate control, parking sensors; you'll get a lot even in the base model.
Active safety systems like adaptive cruise control, blind-spot monitoring, lane-departure warning and lane-keeping assist provide ample tools to stay safe on the road.
Plenty of interior space. Rear passengers will enjoy ample legroom and cargo space peaking at 68.3 cubic feet with the rear seats folded down.
Five powerful powertrains, including an unprecedented 6.2-liter supercharged V8 that's capable of 707 horsepower and 645 pounds-feet of torque. There isn't another SUV that can match what it has to offer.

The Jeep Cherokee
The Jeep Cherokee shrinks down the capabilities and design that people love from the Grand Cherokee into a compact package. Being smaller, however, does little to decrease its value as a comfortable and capable SUV. As good at off-roading as it is for every day, it's an excellent option for drivers interested in a powerful compact experience. The Cherokee delivers:
With two powerful powertrain options, the Cherokee is only one of a few compact SUVs that offer a V6 engine.
Valuable standard and optional features that include a Uconnect infotainment system, dual-zone climate control a universal garage remote, and more.
With its V6 option equipped, the Jeep Cherokee's towing capacity jumps from a modest 2,000 pounds to 4,500 pounds. That's impressive for a compact SUV.
The Cherokee's Trailhawk trim transforms it into an off-roading contender that's great for outdoor recreation.

The Jeep Compass
A compact alternative that's a bit more affordable than the Jeep Cherokee, the Compass provides a comfortable interior with enough power to handle tougher conditions when they arise. With competitive pricing and a slew of valuable feature options, it provides an excellent option for more casual drivers interested in a solid vehicle for family and friends. It comes with:
A comfortable interior that delivers five seats and plenty of passenger space.
The Uconnect 4 infotainment system improves on an already popular selection of media options
The Trailhawk trim boosts the Compass's perform so it's better able to handle rough roads, inclement weather, and even a bit of off-roading.
Solid active safety systems that include everything from blind-spot monitoring to forward-collision warnings and automatic emergency braking.

The Jeep Renegade
The most affordable model in the Jeep lineup, the Jeep Renegade offers the rugged quality of a Jeep in a subcompact package that's perfect for drivers who just need a dependable SUV. Here's some of what you can count on when you drive a Renegade:
The Renegade is one of the most affordable ways to get behind the wheel of a 4WD equipped SUV.
The optional My Sky removable-roof system lets you open the Renegade up so you can let the air in.
The Renegade's Selec-Terrain system lets you adjust the its 4WD performance to match the conditions and terrain you're driving in. There are settings for Auto, Snow, Sand, and Mud.
With seating for five, the Renegade's interior delivers a comfortable experience that exceeds much of what its competitors have to offer.
Click here to see our full new and used Jeep inventory!
We're Proud to Be One of the Best Jeep Dealers in MA
Are you interested in driving a new Jeep of your own? Get in touch with our sales team here at Imperial Cars in Mendon, MA. We can offer you a wide selection of Jeep SUVs, as well as a range of other valuable services. Working with 60 banks and credit unions, we can help you acquire the resources you need to buy the Jeep SUV you're looking for.

Conveniently located in the greater Boston area, near Worcester, Framingham, and Providence, RI, we're proud to be a source of great new cars for drivers in our area. In addition to our new and used car selection though, we also offer a full Jeep service center on-site that's capable of handling any of your maintenance needs, as well as one of the most unique dealership lots that you'll ever come across. We guarantee it!

Not only will you find great vehicles, but when you visit us you'll also find that we have a lot of non-traditional amenities on our campus, including an authentic diner, a car wash and full service detail center, car rentals, a gas station and country store, a retail space with medical facilities, a hair salon, a barbershop, a jewelry store, and even function and event spaces. All "In the Little Town of Mendon!"

Sure, there are other Jeep Dealers in MA, but none quite like ours! Stop by and say hello today, whether you're looking to buy or just browsing, we'd love to meet you!