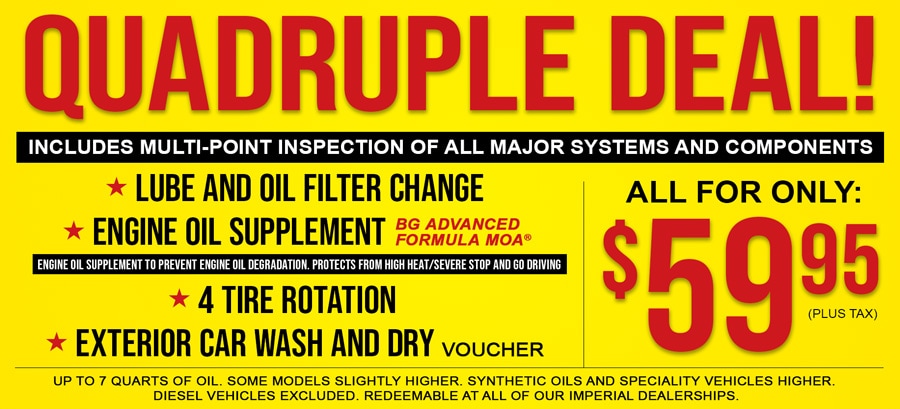 Hours
Monday

7:30AM - 6:00PM

Tuesday

7:30AM - 6:00PM

Wednesday

7:30AM - 6:00PM

Thursday

7:30AM - 6:00PM

Friday

7:30AM - 6:00PM

Saturday

7:30AM - 5:00PM

Sunday

Closed
See All Department Hours
Dealership Hours
Monday

9:00AM - 9:00PM

Tuesday

9:00AM - 9:00PM

Wednesday

9:00AM - 9:00PM

Thursday

9:00AM - 9:00PM

Friday

9:00AM - 6:00PM

Saturday

9:00AM - 6:00PM

Sunday

12:00PM - 6:00PM
Parts Dept. Hours
Monday

7:30AM - 5:00PM

Tuesday

7:30AM - 5:00PM

Wednesday

7:30AM - 5:00PM

Thursday

7:30AM - 5:00PM

Friday

7:30AM - 5:00PM

Saturday

7:30AM - 4:00PM

Sunday

Closed
Service Dept. Hours
Monday

7:30AM - 6:00PM

Tuesday

7:30AM - 6:00PM

Wednesday

7:30AM - 6:00PM

Thursday

7:30AM - 6:00PM

Friday

7:30AM - 6:00PM

Saturday

7:30AM - 5:00PM

Sunday

Closed
Looking for a great oil change deal that is much more than just an oil change? Then visit Imperial Cars in Mendon for our $59.95 Quadruple Deal.It's not just an oil change. Our Quadruple Deal includes:
Lube, oil, filter change 4 tire rotation
Multi-point inspection of all major systems and components (click here to see what we check)
Check and fill of the brake reservoir, power steering, window washer fluid, and transmission (if dipstick equipped).
Engine Oil Supplement to prevent oil degradation and protect your engine from high heat and severe stop and go driving.
Exterior Car Wash
Our Quadruple Deal oil change is available for all makes and models of vehicles. Synthetic oils and specialty vehicles are higher. Diesel vehicles excluded. To schedule a Triple Deal Oil Change appointment, call 508-422-3700 for service at our Chevrolet, Ford, Chrysler Dodge Jeep Ram dealerships in Mendon or Hyundai and Toyota dealerships in Milford.. Remember routine maintenance is the key to keeping your vehicle in prime condition.
Why Choose Imperial Cars for Your Oil Change?
We know you have many choices for your vehicle's oil change needs and that is why we set ourselves apart with exceptional service and customer amenities at a great price.
Convenient Hours: Our Chevrolet, Ford, Chrysler Dodge Jeep Ram, Hyundai and Toyota dealership service departments are open at 7:30 AM Monday thru Saturday for your convenience.
Factory Trained Technicians: All our service technicians are highly skilled and receive continuous factory training so you can trust your vehicle will be in good hands.
Amenities: We know your time is valuable so we offer our customers comfortable, well appointed waiting areas with free WiFi and work areas. Additionally customers can enjoy a meal at the Miss Mendon Diner or visit the businesses located in the Imperial Plaza. We also offer shuttle service for those who wish to leave their vehicle for the day.

Call us today at 508-422-3700 to schedule a Quadruple Deal Oil Change Service for your vehicle and see why customers from Mendon, Uxbridge, Upton, Milford, Hopedale, Bellingham, Blackstone, Millville, and surrounding communities like Holliston, Northbridge, Whitinsville, and Hopkinton to take their vehicles to Imperial Cars for our Quadruple Deal Oil Change service.